The Butterfield Stagecoach Line was started by John Butterfield. Prior to the Civil War, the United States Government needed a standard way to get the mail from the east coast ot the west coast. It was decided a stagecoach line would do the trick. People could use it to travel and it could also transport the mail. The only problem was the representatives from the North and the representatives from the South were already disagreeing on a number of issues, including slavery. The North wanted the route to go through the northern states. The South wanted the route to go through the southern states.

A compromise was finally reached.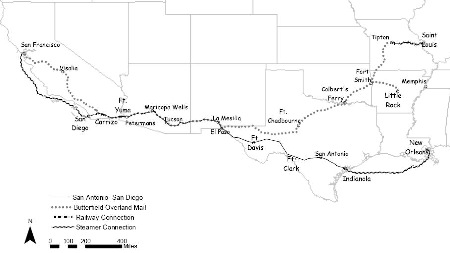 The Potts Station was the only known scheduled stop between Little Rock and Fort Smith. Extra barns were built on the premises to house horses and extra harnesses, etc., for the stagecoaches to change out when they stopped.

People liked to stop at the Potts home, whether on the stage or just traveling through by buggy or horse. Mrs. Potts was well known for her clean beds and good food. Of course, you could also get a bath. The first person would pay the most for his/her bath and each person thereafter would pay a little less. The last person would pay the least and have to empty the tub. Just like in those days, the bathtub is once again in the kitchen. It was easiest to keep it there so you wouldn't have to haul the heated water very far to put it in the tub.